War Crimes Made in Canada
Canada maintains a reputation among the world as a pacifist country. Yet somehow, weapons technologies made in Canada find themselves being used in conflicts from Artsakh to Libya.
It took less than a day for the ceasefire between Azerbaijan and Armenia to be broken, and for the Nagorno-Karabakh conflict to continue with artillery barrages between the two countries in the disputed region. Turkey is currently providing Azerbaijan with military and economic support, including targeted drone strikes. Meanwhile, Canadian Foreign Affairs Minister François-Philippe Champagne confirmed to reporters on Friday October 9th that he had spoken with his Turkish counterpart and urged Turkey to stay out of the conflict. 
Canada has long maintained a well-constructed image of the world's peacekeeper. Whereas the US is seen as a reckless oaf at best and malicious empire more accurately, Canada has managed to keep its international image spotless. In a way, Canada's approach to foreign policy is best described by Nicholas Cage's character Yuri Orlov in the movie Lord of War, "I don't put a gun to anybody's head and make them shoot. But shooting is better for business. But, I prefer people to fire my guns and miss. Just as long as they are firing."
---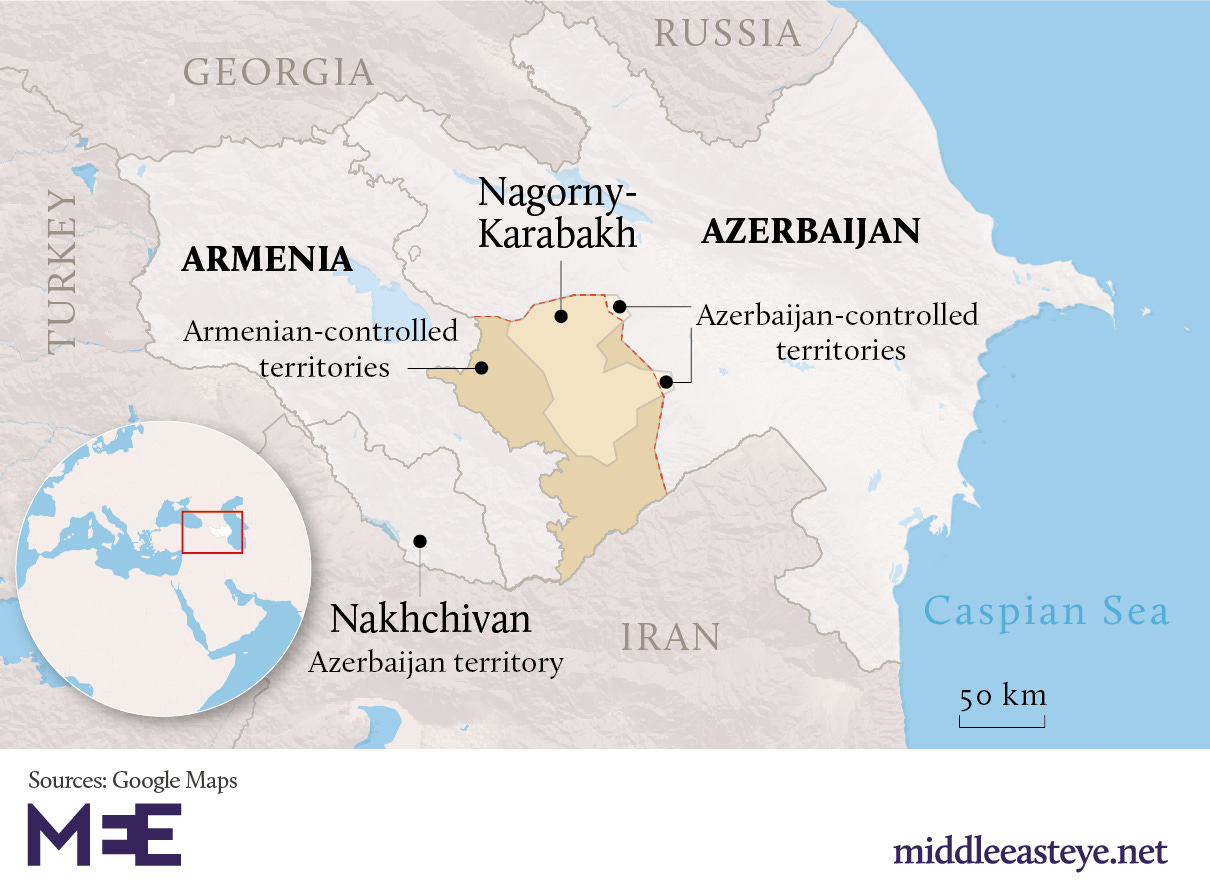 Map of the Armenia-Azerbaijan conflict, as centered around the breakaway Republic of Artsakh in Nagorno-Karabakh. (source)
---
Like Orlov, Canada may not want a particular group of people dead, but if they were to be shot, it prefers they be shot by Canadian made armaments. One such group of people are the Kurds in southeast Turkey. As a fellow member of NATO, Canada has had no qualms exporting arms to Turkey. In fact, in 2018 alone, Turkey was the third largest buyer of Canadian arms, behind Saudi Arabia and Belgium. Turkey is especially interested in imaging and targeting sensor systems, and has been purchasing such gear from L3Harris WESCAM since 2017. A subsidiary of the US arms company L3Harris, L3Harris WESCAM operates in Burlington, Ontario and makes sensor systems with laser guided targeting, used primarily in unmanned aerial vehicles (UAVs), or drones. Though Canada claims its exports must abide by the Arms Trade Treaty to which it is a signatory, there is ample evidence that the L3Harris WESCAM sensors were used in Turkish drone strikes on Kurdish insurgents and civilians alike in the long running conflict in Turkey's southeast regions. In October 2019, however, Turkey launched an invasion of northern Syria, ethnically cleansing the Syrian Kurds who live there. This proved to be a step too far for Canada, and it froze all arms export permits to Turkey.
Canada's full arms embargo was extended in April of this year, though it allowed for certain exceptions under the auspices of NATO cooperation programs. Such an exception was made for WESCAM, who continue to export their sensor systems to Turkey to be installed on the Turkish air force's Bayraktar TB-2 UAVs. According to a report by the Canadian disarmament group Project Ploughshares, the Turkish Bayraktar TB-2 UAV, which comes in both reconnaissance and armed variants, relies "exclusively on WESCAM targeting hardware." Thus, despite the apparent embargo, the federal government is more than happy to allow secondary and tertiary equipment to be sold to facilitate ethnic cleansing, as long as the cleansing is done with Canadian sensors.
---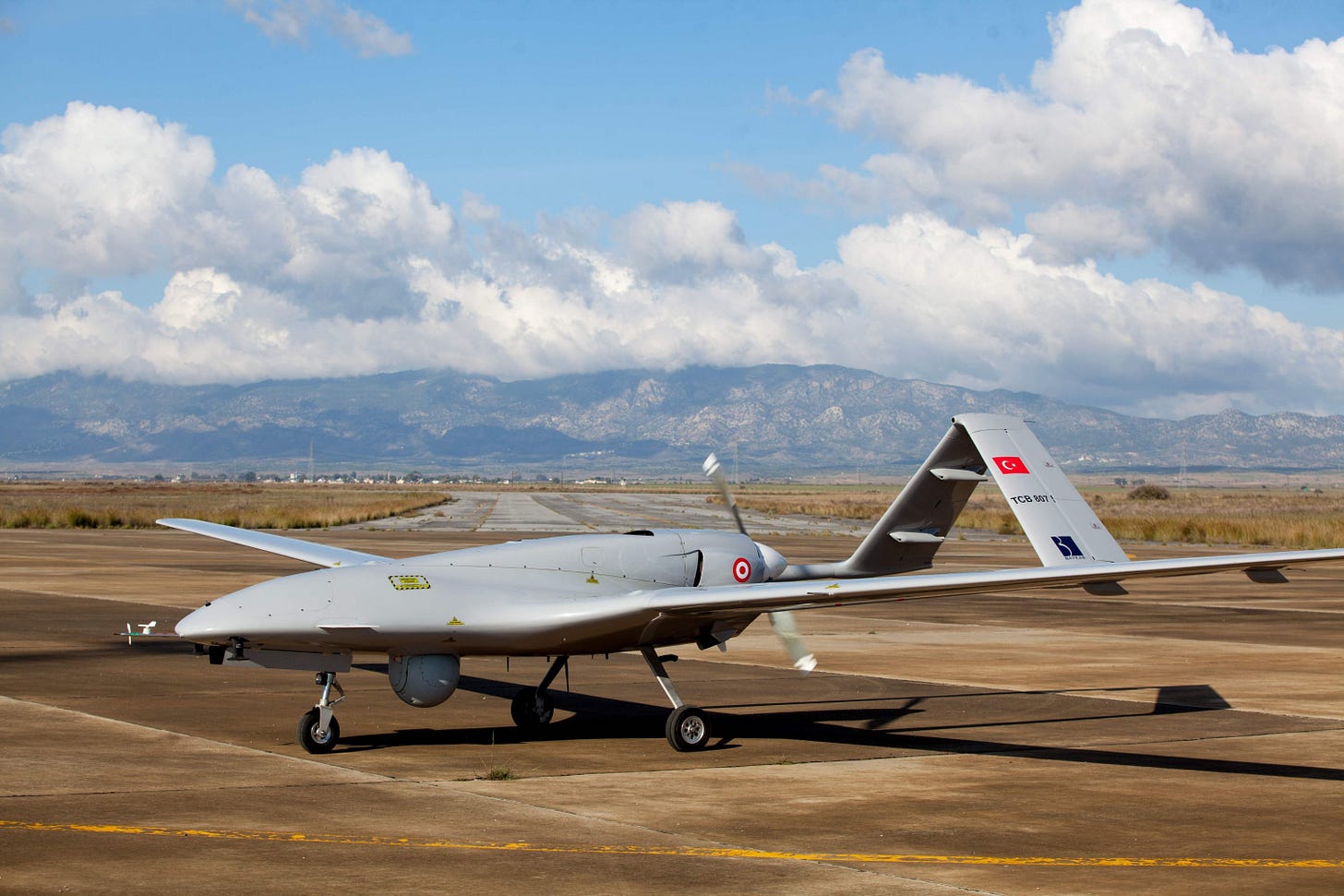 Turkish Air Force's Bayraktar TB-2 Drone
---
In addition to their uses both within Turkey and in Syria, the Turkish military has also been providing its drones to the Libyan Government of National Accord, currently embroiled in a war with the Tobruk based Libyan National Army led by Khalifa Haftar. When confronted by CBC, the Turkish embassy did not even deny its involvement in Libya. "In Libya, Turkey is supporting the legitimate government against a warlord, [Khalifa] Haftar, and this is in line with the international law," the embassy claims. On the other hand, the embassy's statement further goes on to dismiss Project Ploughshares' reports of civilian casualties as Kurdish PKK propaganda. 
It is no secret that Turkish President Recep Tayyip Erdogan has bold imperial ambitions for Turkey in the region. Now, with the Armenian-Azerbaijani conflict erupting into outright war, Turkey has thrown itself behind Azerbaijan. Turkish backing has included UAV support for the Azerbaijani forces, including both reconnaissance and drone strikes. Turkish airstrikes have unambiguously led to civilian casualties in the Nagorno-Karabakh pocket, and yet the WESCAM sensors continue to be exported. In fact, Azerbaijan is now interested in buying Turkish Bayraktar TB-2 drones for its own military. Thus, WESCAM sensors made in Burlington can be shipped to Turkey to install on its drones, and those drones can then massacre civilians in Turkey, Syria, Libya, and now Nagorno-Karabakh, and the money flows back to L3Harris and Canada. The spice, as always, must flow.