The American Empire's Call of Duty
The US military is using video games to rewrite history. Should we care?
Earlier this year, Representative Alexandria Ocasio-Cortez (D-NY) proposed an amendment to the House Appropriations Bill. It sought to limit the US military's ability to recruit young teens on the popular streaming platform Twitch. Unfortunately, it failed to pass on July 30th. However, it has shone a light on the disturbing nature of military propaganda and the complicity of the gaming industry in encouraging it.
The US Army was the first to spot the recruiting potential on Twitch, and formed an esports team in 2018. They were swiftly followed by the Navy. Called recruiting liaisons, these teams stream countless hours of themselves playing first person shooters while chatting about the benefits of joining the military. This approach has had a profound success, generating 13,000 new recruiting leads in the first half of 2020 alone. 
---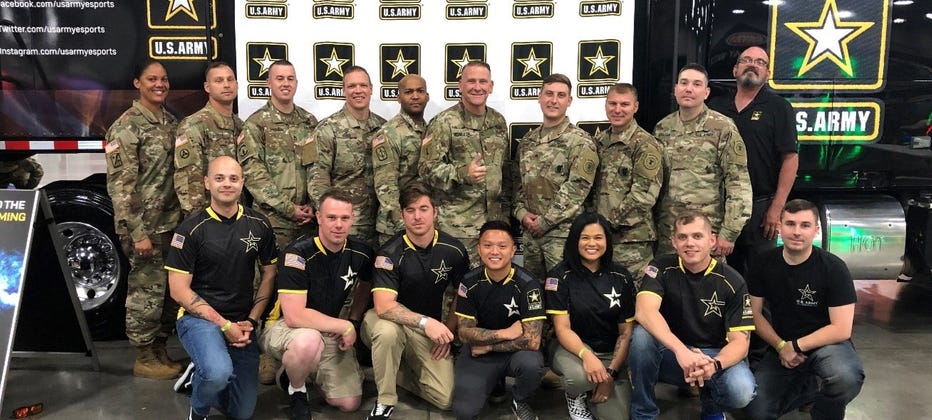 Pictured above: weird online strangers who will message your children and convince them to get shot in Afghanistan to buy a Camaro.
---
However, it did not come without opposition. Anti-war activists have brigaded the Army and Navy Twitch channels to confront these liaisons with the brutal reality of the US empire. In response, the Army and Navy moderators prohibited phrases like "war crimes" and banned users who voiced criticism. The Army also posted a fake Xbox giveaway link on its Twitch stream, which, when clicked, leads to a blank Army recruitment form. Following backlash, the Army and Navy have both suspended their Twitch channels while they "review internal policies and procedures." Sadly, this is only one layer of the power of US propaganda in video games.
---
On August 8, 2019, Infinity Ward directors Jacob Minkoff and Taylor Kurosaki sat down with GameInformer for a usual marketing interview in anticipation of the release of the latest Call of Duty iteration, Modern Warfare, on October 29th of that year. During the course of the interview, they were asked if they considered Modern Warfare political. Minkoff responds:
"No. Do we touch topics that bear a resemblance to the geopolitics of the world we live in today? Hell yeah, because that is the subject matter of Modern Warfare. Are we telling a story that has anything to do with the specific governments of any countries that we are portraying? No. So if you're asking, like, is Trump in the videogame, no, he isn't."
Kurosaki then interjects, further confounding the host and viewers:
"These are the types of questions that have been asked for the last 50 years. We do talk about concepts like colonialism, and occupation, and independence, and freedom. We don't maybe say those words specifically, but that's the realm that we are in. But you could have a game that takes place in revolutionary America talk about those exact same concepts."
Of course, this level of delusion can only be swallowed by an audience with a complete lack of understanding of history and ideology. Fortunately for Infinity Ward, the American public is exceptionally lacking in both. But what is Call of Duty: Modern Warfare? And how is it political?
Call of Duty: Modern Warfare is the 16th overall installment in the Call of Duty video game series, and acts as a reboot of the Modern Warfare sub-series. Modern Warfare is set in a fictional Middle Eastern country called Urzikstan (the suffix -stan is actually a Central Asian phenomenon but you'd be too optimistic to expect the developers to concern themselves with actual geography). Urzikstan is beset by strife and conflict. It is occupied by Russian forces under General Roman Barkov, who is waging war against two factions seeking independence. One is Al-Qatala, Arabic for "The Killers" (it appears that subtlety is not one of the game's strong suits). They are led by Omar Sulemana, a blind man known also as "The Wolf", and his right hand man Jamal "The Butcher" Rahar. Opposing them and the Russians are an unnamed rebel group led by the woman guerilla fighter Farah and her brother Hadir, embodying a more human and secular rebel militia to the fanatical Al Qatala jihadis.
As the player, you are dropped into this quagmire playing alternating characters. There is Alex, a CIA officer who is sent to track a shipment of chemical weapons that have been stolen by a mysterious faction. The other protagonist is Kyle, a British SAS sergeant who previously failed to stop an Al Qatala terrorist attack in downtown London. Following the destruction of Piccadilly Circus, Kyle remarks to Captain Price that they could have stopped this attack, but an unspecified "they" (implying bureaucracy) tied their hands with red tape. Kyle requests that the gloves be off when fighting the terrorists. In response, Captain Price recruits him into his squad, and they join Alex in Urzikstan. They meet up with Farah and her intrepid band of "good rebels" to fight both the Russians and Al Qatala terrorists in a convoluted plot that ultimately reaffirms the need to drop the gloves off the Western troops and their allies as they are willing to do everything to protect freedom.
---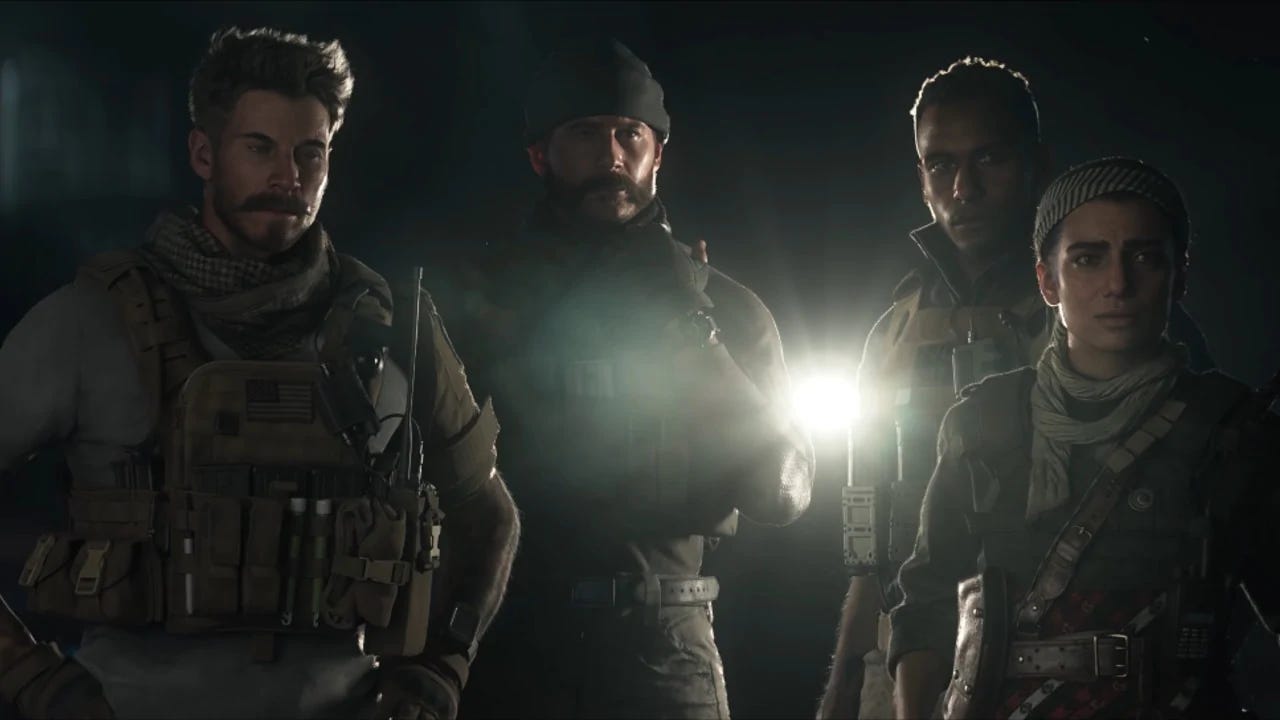 Guess who? From right to left: generic American CIA guy, British stereotype, generic SAS agent guy, and Farah, the female guerilla fighter (because good rebels are led by women)
---
You'd be remiss not to immediately make the connection between Urzikstan and the current civil war ravaging Syria. There are good rebels, bad rebels, and Russians. There are chemical weapons. There are CIA and SAS officers who just want to do the right thing. There is even a female guerilla fighter that heavily suggests a Kurdish YPJ stand-in. Nevertheless, Modern Warfare comes out lacking. At no point in the plot is it explained why the Russians are occupying this country, nor the origins of this civil war. Alex is sent to claim a shipment of chemical weapons, but little is said about why exactly the CIA feels responsible for a shipment of chemical weapons stolen from the Russian military by local Urzik forces. Of course, this makes sense in the context of US global hegemony, and the logic of imperialism that dictates that the US and its allies are entitled to be anywhere in the world at any point in time. US military and covert intervention is good, because the US does it. Russian military and covert intervention is bad, because Russia does it. It is the foundation of US imperial ideology.
This historical revisionism reaches a crescendo midway during the game, when Farah takes the player as Alex down a highway stretching away from her hometown to lay an ambush for advancing Russian troops. Farah calls this road "the Highway of Death", and explains how the townspeople attempted to flee the oncoming Russian forces during the first phase of the war via this highway into the mountains. As they fled, Russian airplanes carpet bombed the road, massacring countless Urzik civilians. The player is meant to empathize with the good Urzik rebels like Farah and despise the Russian tyrants. 
Unfortunately, "the Highway of Death" refers to a historical reality, and one that was not committed by Russians. Instead, it refers to Highway 8, the highway connecting Kuwait to Iraq. It earned the name Highway of Death in 1991, when NATO aircraft bombarded the retreating Iraqi forces during the Gulf War. At that point, the Iraqis have been conclusively defeated and were fleeing to Basra, in Iraq. However, the US-led coalition found it necessary to launch an air campaign massacring the fleeing Iraqi columns, causing thousands of deaths and tens of thousands of wounded. Appropriating the name of a real-life US war crime to define a fictional Russian one thus epitomizes the complicity of the video game industry in US imperialism.
---
However, it doesn't have to be that way. Video games as a form of art can cast scathing critiques of social and political ills. Take the Metal Gear series. The brainchild of Hideo Kojima, the series admirably interrogates the horrors of war and its use as a tool of capitalism and imperialism. It doesn't hit the player over the head with its themes either. Instead, it uses the plot and characters to examine capitalism's exploitation of soldiers as tools for the profit of a ruling class. Deftly designed, Kojima leaves us with characters that will live long in the memory of gamers, characters like The Boss, Big Boss, Revolver Ocelot, Solid Snake, and Raiden among others. Meanwhile, strap me to a chair and I'd be incredibly screwed if I had to name one memorable Call of Duty character. Even though  I finished the game's story mode, I had to go back to Wikipedia to remember which characters I was playing as. 
It seems quite ironic that a series like Metal Gear openly identifies itself as political and yet somehow manages to be more subtle about its ideology than Call of Duty, whose creators vehemently insist is not political. Perhaps those creators should question why Army and Navy recruiters have found fertile ground in Call of Duty players online. Video games can be both art and entertainment, but art and entertainment are both inherently political no matter what developers or players would like to believe. 
---
---
Sources:
"Call of Duty: Modern Warfare (2019 Video Game)." Wikipedia, Wikimedia Foundation, 9 Aug. 2020, en.wikipedia.org/wiki/Call_of_Duty:_Modern_Warfare_(2019_video_game).
Chalk, Andy. "Infinity Ward Says Modern Warfare Isn't Political." Pcgamer, PC Gamer, 9 Aug. 2019, www.pcgamer.com/infinity-ward-says-modern-warfare-isnt-political/.
Hall, Charlie. "Call of Duty: Modern Warfare's Highway of Death Controversy, Explained." Polygon, Polygon, 30 Oct. 2019, www.polygon.com/2019/10/30/20938550/call-of-duty-modern-warfare-highway-of-death-controversy.
Navy Esports Team Bans Twitch Users Who Ask About SEAL Who Did War Crimes, www.vice.com/en_us/article/wxqpj9/navy-esports-team-bans-twitch-users-who-ask-about-seal-who-did-war-crimes.
Walters, Jonah, et al. "AOC Is Right: Get Military Recruiters Off Twitch and Out of Schools." Jacobin, 8 June 2020, www.jacobinmag.com/2020/08/military-recruitment-esports-school?utm_source=Jacobin&utm_campaign=fa977c0047-EMAIL_CAMPAIGN_2019_10_01_07_50_COPY_01&utm_medium=email&utm_term=0_be8b1b2846-fa977c0047-85551578&mc_cid=fa977c0047&mc_eid=5a221ea81f.