Taken Into the American Psyche
The movie Taken (2008) may be trite, but it also represents a special kind of American subculture. In that, it is an undeniable work of art.
Some time in high school, I remember my parents purchasing a Dreambox receiver for the TV in my room. A Dreambox is a rectangular box connected to the Internet that was jailbroken to stream various cable channels for free. Growing up in Bahrain, you either had a cable subscription that cost upwards of $200/month, or you got the Dreambox. Our household fell into the latter category.
Ever since then, the TV was always on in the background while I was at home. Sometimes it was showing live football matches, or Cartoon Network. Other times, it would be on a premium movie channel. It was one such channel where I first watched the movie Taken. It was an enjoyable if not especially genre-defining film. I quickly moved on. 
---
---
Last weekend, I was bored and stuck with quarantine and came across Taken on my Amazon Prime account. I decided to let it play. What resulted in the next hour and a half can only be described as pure ego death. I was taken into a journey delving into the very depths of a particular kind of American Dad psychopathology. I realized at that moment that I was never the intended audience for this movie. 
---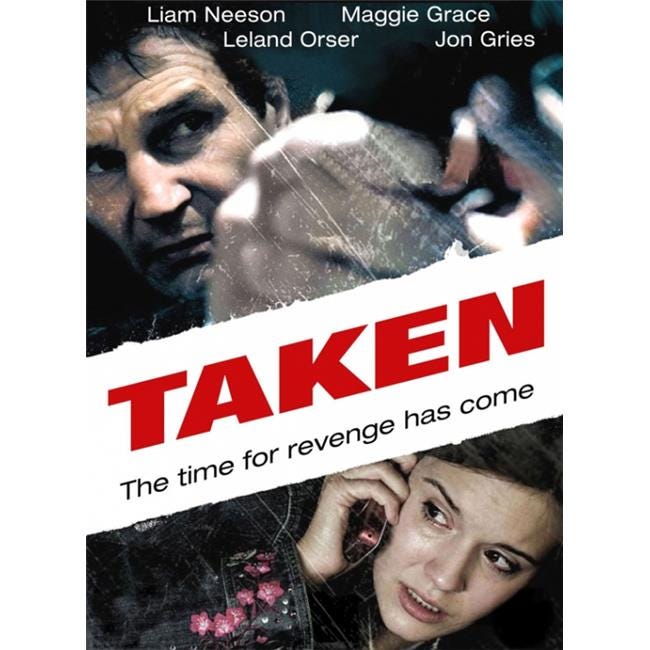 Movie poster for Taken (2008). I for one am waiting for Taken 4, a prequel where Bryan takes Kim to Disneyland.
---
Instead, this movie was created for the sort of American Dad that would post a photo of himself, hands wrapped around his daughter's waist, with a caption indicating some kind of virginity pledge in which the daughter promises her dad to keep her virginity through Prom. Give this American Dad a few beers and he will inevitably regale you - for the hundredth time no doubt - with his sincere assurances that he could have become a Navy SEAL operator had he not injured his hamstring throwing the game-winning touchdown for his high school team. It goes without saying that this dad owns several rifles and pistols. During the day, the aforementioned Dad runs a hot tub dealership. Nevertheless, A.D. froths at the mouth thinking about the fantasy of walking by a nice lady being mugged by some youths, so he can unload his Smith & Wesson Model 5906 into the racially ambiguous teen. A.D. lives in an ugly McMansion in a suburb somewhere, and yet believes he is besieged by enemies be they Muslims, MS-13, Antifa, etc. To this intrepid hero, Taken is a modern art masterpiece.
Many of you may have come across the memes that the movie produced, not least of all the "particular set of skills monologue". For those of you who have been fortunate enough to avoid the movie and associated references, a recap is in order. SPOILERS AHEAD. Taken concerns the life of retired CIA operator Bryan Mills (played by Liam Neeson), whose daughter Kim lives with his ex-wife Lenore and her wealthy husband Stuart. Kim convinces her protective dad to let her travel to Paris with her best friend Amanda. Upon their arrival, they meet a handsome youth by the name of Peter, and they share a cab together. Little do they know, Peter is a spotter for a human trafficking ring, and he notes their address down. Shortly thereafter, masked men enter the apartment Amanda and Kim are staying at and kidnap the pair. Before she is kidnapped, Kim is able to call her father and shout descriptions of the men to him. When they realize, a kidnapper picks up the dropped phone, at which point Bryan does his famous monologue:
"I don't know who you are. I don't know what you want. If you're looking for ransom, I can tell you I don't have money but what I do have are a very particular set of skills. Skills I have acquired over a very long career. Skills that make me a nightmare for people like you. If you let my daughter go now, that will be the end of it. I will not look for you, I will not pursue you. But if you don't, I will look for you, I will find you and I will kill you."
After a tense pause, the kidnapper responds with a comically Balkan accent "good luck" and hangs up.
---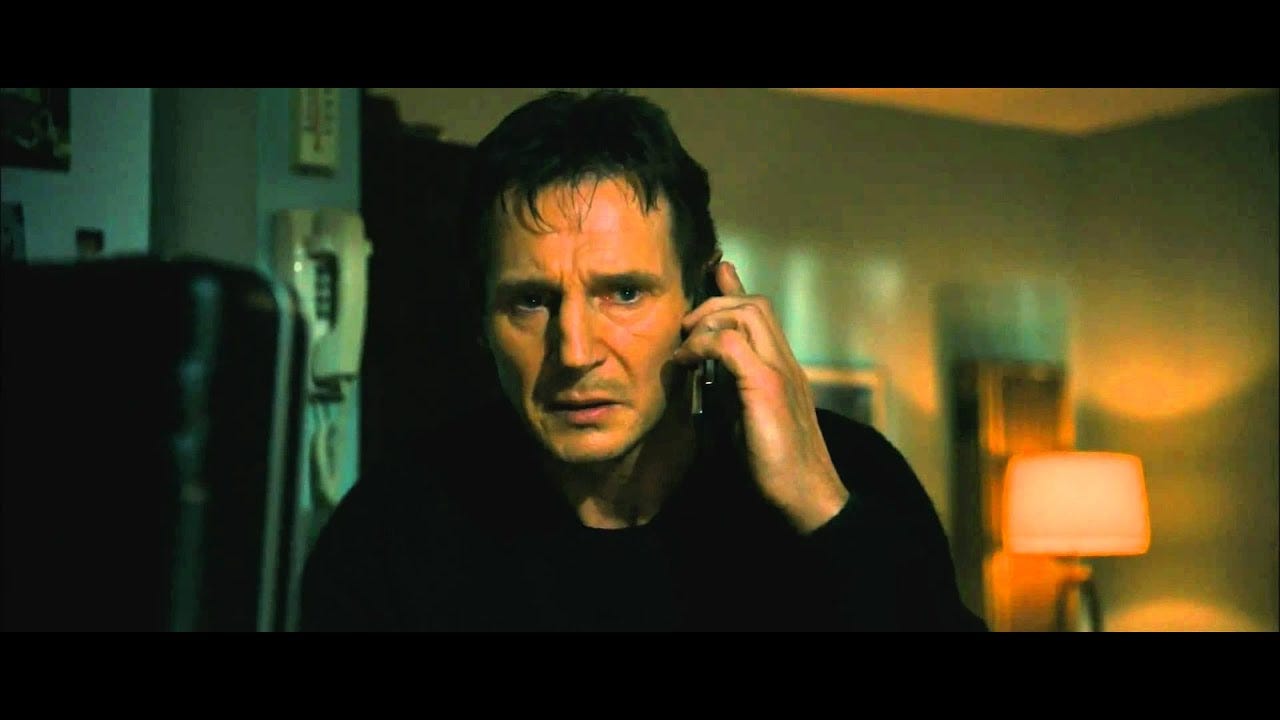 Liam Neeson as Bryan Mills about to launch into a Shakespearean monologue.
---
What follows is an hour long romp through Paris in which Bryan Mills dispatches hordes of bad guys via the above-mentioned skills as he seeks to find his daughter before it is too late. He rescues the damsel in distress, and everyone lives happily ever after. It is not the generic plot, however, that makes Taken such an astute study of that particular pathology affecting the American male. Rather, Taken's ensemble of villains acts as a flawless time capsule encapsulating a very exact moment in American political history and collective psyche. 
Taken was filmed in late 2007, following the massive troop surge of the US military into Iraq as the war went from bad to worse for the Americans. Domestically, President George W. Bush was facing historically low popularity ratings going into the 2008 election, where the Republican Party ended up nominating John McCain against the Democrats' Barack Obama. It is in this climate that the movie was released. Despite mixed reviews, the movie grossed significant money, raking in $145 million in North America alone (vs. a production budget of $25 million). It clearly found a hungry audience, but why?
Let's start with the kidnappers mentioned above. Kim screams to her father that the man grabbing her was six feet, bearded, with a tattoo of a [crescent] moon and star on the hand. Bryan contacts a CIA friend who determines that these men are likely Albanian sex traffickers operating in France. According to the friend, they kidnap young female tourists, addict them to heroin, and sell them into sexual slavery. Bryan has 72 hours from the moment of kidnapping or he will never find Kim again. What immediately strikes me here is the deliberate choice of human traffickers. The Albanian gang is portrayed with thick Eastern European accents and greasy looks perhaps calling back to Cold War fears. However, the choice of Albanian among all the Balkan ethnicities is fascinating due to the fact that Albanians are majority Muslim. Thus, the creators of Taken managed to dialectically synthesize American fears of the Slav and fears of the Muslims into the ideal object of paranoia. 
Despite his best efforts killing every Albanian male in Paris (more or less), Bryan fails to find Kim in their brothel. Instead, he finds her friend Amanda, dead due to a heroin overdose. Bryan then captures an Albanian and liberally applies enhanced interrogation methods that would make John Yoo blush, and ultimately discovers that Kim was sold to a high-end French human trafficker named Patrice Saint-Clair. It turns out that Kim was immensely more valuable due to her virginity, unlike her harlot friend. Here, the film reveals its thesis. While a first glance shows a generic action flick, Taken in fact manifests the paranoia of American Dads and their fear of their daughters' virginities being...well...taken by a myriad of racial caricatures and national enemies. Freud would have a field day exploring the psyches of these dads and their disturbing obsessions with their daughters' sexualities. In effect, however, they perceive their daughters as property whose value is dependent on purity, and thus the movie contrasts the sexually promiscuous Amanda, who dies of an overdose, and Bryan's daughter Kim, whose virginity enhances her value while buying her enough time for Bryan to come to the rescue. 
Bryan then locates the residence of Patrice Saint-Clair, but not before uncovering the corruption of Jean-Claude, a former friend of his. A French intelligence agent, it is implied that JC and Bryan were friends from the field, but JC traded his field job for a desk job, and through that extorted the Albanians for protection money. Keeping in mind that this movie was the product of the American psyche circa 2007-08, Jean-Claude's character becomes a stand-in for France. Jean-Claude is thus indicted for France's decision to denounce the US coalition's invasion of Iraq and decline participating in the occupation. It is at this time when the US was trying to popularize the phrase "Freedom Fries" as a substitute for French fries and the memes of France being "surrender-monkeys" emerged that Taken was released to theatres. 
Predictably, Bryan finds his way to the mansion of Patrice Saint-Clair during what appears to be a very fancy gala. Underneath that, however, Saint-Clair is hosting an auction for highly-wanted virgin sex-slaves. Bryan infiltrates the auction and pressures a man into buying Kim before being captured by Saint-Clair's guards. 
Again, the movie winks to its intended base. The effete French man, garbed in a tuxedo and whose home is a bastion of wealthy decadence and moral rot, does not stand a chance against the insurmountable masculinity of the CIA operator-father. He breaks free and kills Saint-Clair, but not before finding out where Kim's buyer at the auction is located. 
He races to the docks, where it is revealed that the buyer is a Qatari sheikh staying on his private yacht. The sheikh is the piéce de rèsistance of the movie, the magnum opus. Morbidly obese, bald, wearing a robe that can only be described as a circus tent, the sheikh lays in bed as his muscular and well armed guards bring the sex-slaves to him. He utters one line in the entire movie, coming at the end after Bryan kills his troop of soldiers. The sheikh realizes Kim is his daughter and holds her hostage. He blurts out. "we can negoti-", but Bryan shoots him in the head before he can finish the thought. This unnamed sheikh is depicted as an Arab Jabba the Hutt. Unlike Jabba, however, the sheikh is killed by the movie's stand-in for Han Solo. Thus, Kim is reunited with her father and they head home.
---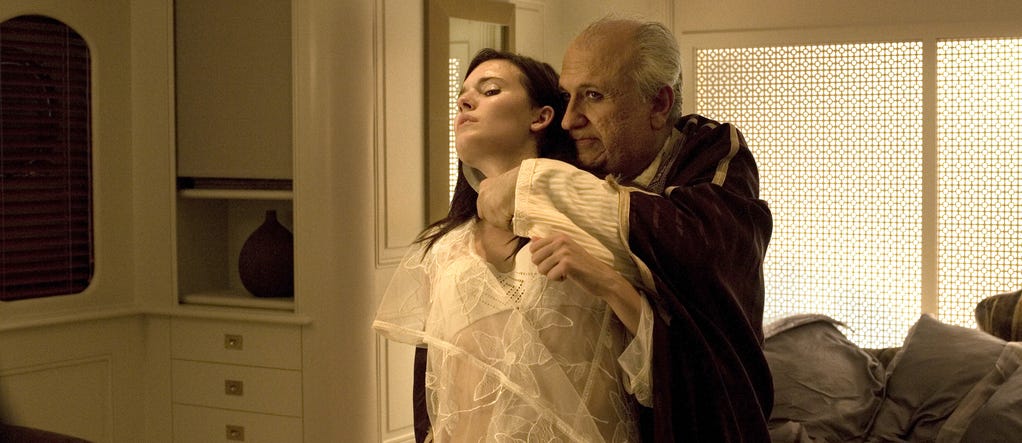 Somehow I don't think holding the angry CIA operator's daughter hostage after he just cleared your entire boat of your bodyguards is a good idea, but what do I know?
---
Somehow, the Mills family's peace does not last long. Taken's financial success spawned two sequels and a TV series, none of which found similar success. The original remains an immortal work of art, however, despite the 58% rating on Rotten Tomatoes It is immortal only insofar as it exists as a time capsule, a relic of a very distinct period of collective American psychology, and of a study in the minds of a narrow subset of the US population. For many of us, we live hoping never to experience what Bryan goes through in Taken. For the American Dad, Bryan's experience of killing, maiming, and otherwise dispatching a cocktail of racially ambiguous national enemies is simultaneously feared and desired. The American Dad is the unvarnished id of American society, and it is this id that will eventually give the United States President Donald Trump eight years later.
---