Canada's Green Party: Not Left, Not Right, Forward Together.
Establishment candidate Annamie Paul has won the Canada Greens leadership contest, and promises to maintain the GPC's third positionism.
Saturday the 3rd of October brought to an end an arduous leadership election marred by controversies for the Green Party of Canada, culminating with the crowning of Annamie Paul as the new leader of the party. Paul replaces Elizabeth May, the longtime Green Party stalwart who stepped down 11 months to the day following the Canadian federal elections of 2019. After 8 rounds of ranked voting and with 68.8% voter turnout, Paul edged out ecosocialist candidate Dimitri Lascaris with 12,090 of the final vote tally to Lascaris's 10,081 votes. Paul now faces the unenviable task of attempting to unify a party wracked by division and long treated as the butt of jokes in Canadian politics, and her success will depend largely on how willing she is to compromise with the party's left.
---
---
Unfortunately, such a result marks a considerable victory for the party establishment over an insurgent left wing, a left represented most strongly by Lascaris and fellow ecosocialist candidate Meryam Haddad in the leadership contest. Haddad in particular experienced the wrath of the party establishment, being expelled on September 22nd, a mere 11 days before the elections, before being reinstated on appeal. The party claimed that Haddad had violated internal party policy by endorsing the BC Ecosocialists in provincial elections over the provincial Greens. However, Haddad rightly pointed out that former leader May herself endorsed a Liberal candidate over a Green candidate in the federal elections of 2015. Haddad was reinstated, but not without much effort - effort that could have been directed towards campaigning in the leadership race. 
---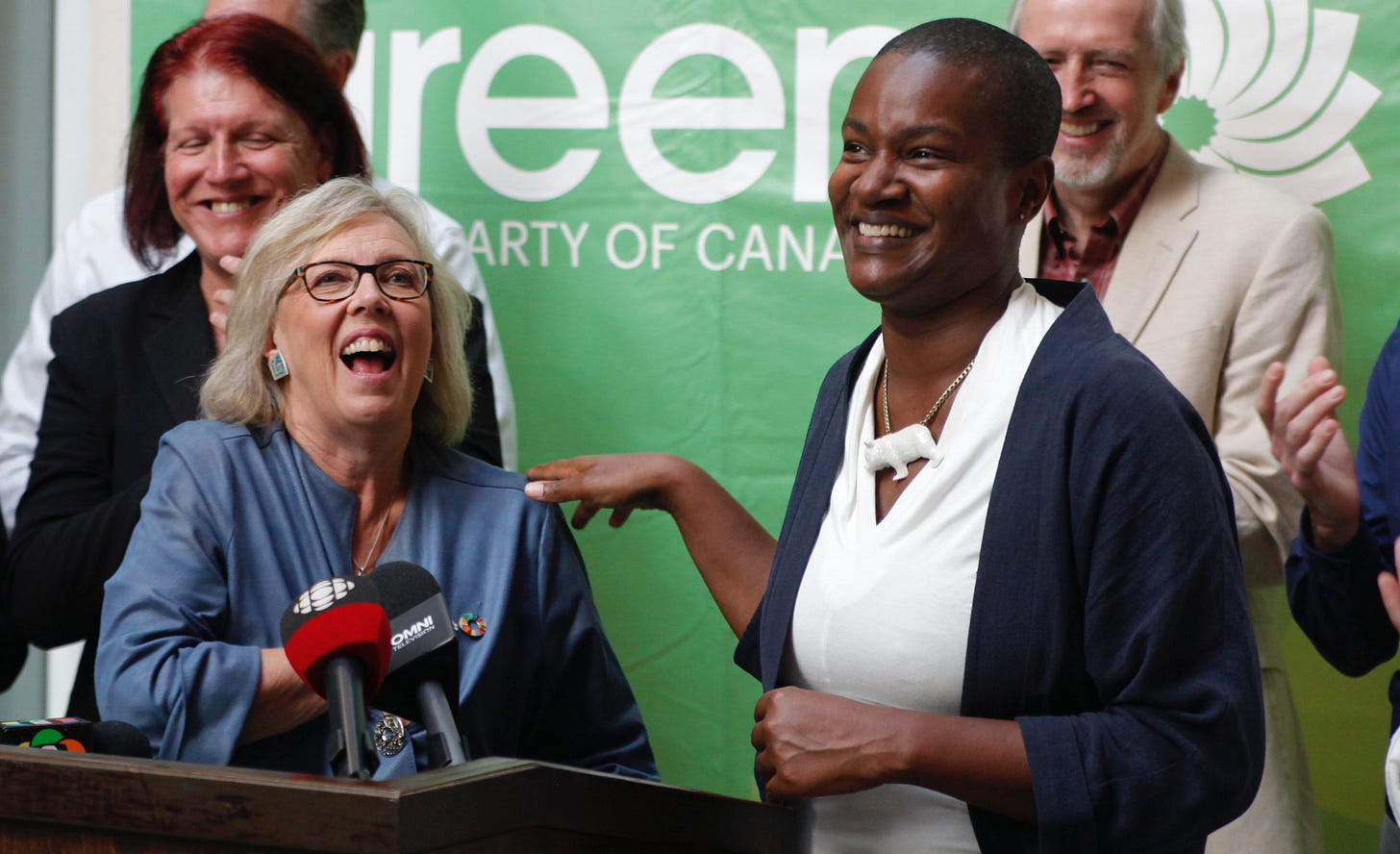 Outgoing Green Party leader Elizabeth May, left, seen campaigning with incoming leader Annamie Paul, right.
---
Similarly, Lascaris's application for candidacy was initially rejected by the party, and only reinstated following an appeal as well. It is no coincidence that Lascaris offered a comprehensive socialist platform that recognizes the underlying links between climate change, neoliberal policy, and capitalism. Consequently, the lawyer and journalist from Montreal has advocated for nationalizing key sectors in Canada, including transportation, education, and internet service providers. Lascaris also promised to overhaul Canada's healthcare system, which currently exists as a provincial single payer system where healthcare providers remain privatized. Instead, Lascaris proposed a People's Healthcare System modeled after the UK's NHS, where healthcare is both publicly funded and owned. Lascaris's PHS would also expand public healthcare to include dentistry, mental health, eldercare, and pharmacare. If the COVID-19 pandemic has shown us anything, it is the untenable fragility of Canada's healthcare system following years of austerity and limited funding by Liberals and Conservatives alike. Thus, Lascaris's proposal was a bold and expansive attempt to bring Canada's healthcare up to par for the modern world.
On the other hand, Annamie Paul represents the party's "business as usual" line, and a continuation of Elizabeth May's leadership. Paul promised to maintain the Green Party's position on carbon taxation, banning fracking, and enacting mild regulations on the private sector. Beyond that, Paul gave vague nods to progressivism without offering much in concrete policy. On policing for example, Paul suggests defunding without offering a pathway, and advocates for civilian oversight. Paul's website describes her approach to policing with the bold sentence that "there must be a profound change within the system". On the other hand, Lascaris writes on his website, also in bold, that the aim is to "create a society in which the police are unnecessary and can be abolished" while also proposing specific policies including a 50% reduction of funding to the RCMP over the next 5 years and banning training exercises between Canadian police and police of other countries like Israel. 
---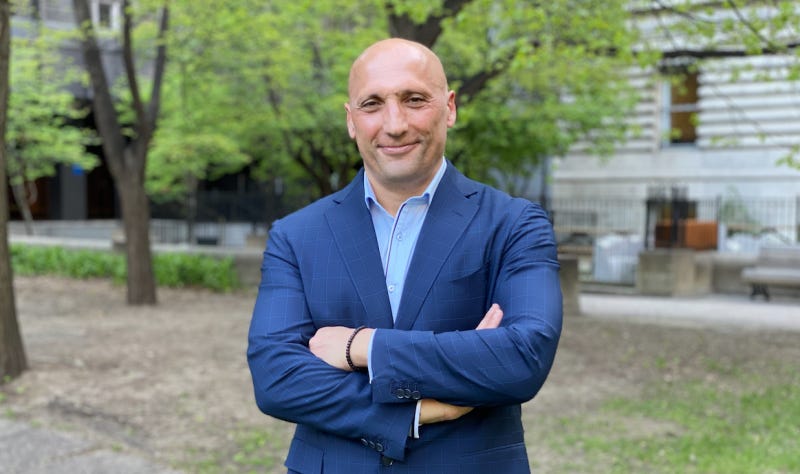 Green Party leadership candidate and self-described ecosocialist Dimitri Lascaris.
---
However, nothing highlights the difference between the party establishment as seen in Paul and the insurgent left manifested in Lascaris and Haddad like foreign policy. During the foreign policy debate hosted by rabble.ca, Lascaris and Haddad were the only two candidates who answered no to the moderator's questions on whether Canada should be a part of NATO or the Five Eyes network of intelligence organs. Both also rejected Canada's participation in the Lima Group, designed to organize regime change in Venezuela. Both opposed Canada's bid for the security council seat. Both agreed that Canada should sign the UN's Prohibition on Nuclear Weapons treaty. Moreover, Lascaris was the sole candidate to call for the release of Meng Wanzhou, the Chinese businesswoman and Huawei executive currently held by Canadian federal police in BC following an extradition request by the US, who plan to charge her for fraud for violating sanctions in conducting business with Iran.
Meanwhile, Annamie Paul chose to abstain on all the above questions, remarking that those issues were "too important for that particular format" - a format where candidates were urged to show a thumbs up, thumbs down, or sideways thumbs indicating abstentions in response to the moderator's yes/no questions. A cursory look into Paul's website shows no platform on foreign policy, choosing to focus instead on "innovation in healthcare" among such empty banalities.
Nevertheless, Paul was announced on Saturday October 3rd as the victor and new Green Party leader, having raised the most funds during the campaign at $206,000 and garnered endorsements from key party figures including outgoing leader Elizabeth May. Moving forward, Paul will have to deal with a fractured party following a leadership contest rife with claims of missing ballots, party intervention (including May fundraising for Paul), and several attempts to expel the leftist candidates for flimsy reasons. How she chooses to do that is up to her team, but it is clear that the party as yet will maintain the establishment line.
Despite this setback, however, there are also reasons for optimism, both within the Green Party and without. Lascaris pushed Paul to the wire, accumulating 42.22% of the eighth and final vote tally and proving a real hunger for a radical new political project among Party members. Beyond the Greens, the NDP has also shown itself to be a party with room for left wing insurgencies as seen most recently in Nikki Ashton's leadership bid. 
---

Green Party of Canada's leadership results following a ranked ballot election lasting eight rounds. (
Source
)
---
Even more, party politics only scratch the surface of the left's potential in Canada. In Toronto in 2018, Parkdale Organize has successfully orchestrated rent strikes to resist landlords attempting to increase rent above guidelines to price out tenants. Also in 2018, Canada Post's union went on a nation-wide strike demanding better conditions. And earlier this year, Ontario's teachers also went on strike, expressing rage at a lack of funding and increasing class sizes leading to a deterioration of public schools. That's all without exploring the activities of BLM Toronto, Idle No More, and other grassroots organizations pushing for radical change amidst the abject degradations of the neoliberal consensus. 
It is thus clear that hope is not lost just yet. There is a lot of potential for success of the Left in Canada, and the pandemic offers unparalleled opportunities to expand and organize the people. Leftists must find optimism in the aforementioned victories, and organize with local tenant groups and workplace unions now more than ever to resist unsafe workplaces and eviction threats. At the same time, the NDP and the Green Party may have temporarily succeeded in stifling their left wings, but it behooves us to apply constant pressure on the parties and mobilize a base that can act as a sword of Damocles on the establishment incumbents. When the opportunities arise, we must be ready to seize the moment. Chairman Mao Tse-tung once said that "everything under heaven is in utter chaos. The situation is excellent." It is up to the left to make the opportunities count.
---